Ladda kårkortet
Genom kårappen
Vi rekommenderar att ladda ner vår app Chalmers studentkår. Denna nedladdningslänk känner av vilken mobil du har och tar dig till rätt ställe. För att kunna logga in måste du ha ett CID samt ha betalat senaste medlemsavgiften. Du måste även ha ett svenskt personnummer samt ha Swish för att kunna ladda kortet.
I appen kan du sedan alltid ha koll på ditt saldo på appens startsida.
Genom microdeb.me
(För närvarande fungerar tjänsten bara mobilt och med webbläsarna Chrome och Safari)
Första gången du använder sidan:
Skriv in din studentmail (CID@student.chalmers.se) under Användarnamn

Hoppa över lösenordsrutan och klicka på länken "Har du glömt eller saknar ditt lösenord?"
Du får då inloggningsuppgifter via e-post (studentmailen). Sen kan du äntligen smidigt ladda ditt kort online igen! Är du doktorand? Då använder du din @chalmers.se-mail som du angett vid ansökan om kårmedlemsskap. 
Via microdeb.me kan du:
ladda med Swish (enbart, ej kontokort)

Se ditt saldo samt transaktionshistorik 

Ladda ner digitala kvitton
Om jag inte har Swish?
Du kan alltid ladda på plats vid valfri enhet där du ändå tänkt handla, t.ex. STORE, J.A. Pripps och Kårrestaurangen.
===ENGLISH===
Top up your student union card
Via Student union app
We recommend using our app to top up and check your balance quick and easy. This device sensitive link till take you to the correct store for download depending on your device.
The app required to log in via CID and that you have a paid membership. It also requires a Swedish personnummer and you need to be connected to Swish in order to top up.
(The service only works on your mobile and with browsers Chrome and Safari).
Via Microdeb.me
Enter your student mail (CID@student.chalmers.se) under "Användarnamn"

Skip the password box. Request

new password by clicking "Har du glömt eller saknar ditt lösenord?"
You will then receive log in information to your student mail. Then you are ready to top up your card again. PhD student? Please use your @chalmers.se email that you entered when registering for union membership. For mobile it only works with Chrome and Safari.
What features are included?
Top up with Swish only

Check your current balance and previous transactions

Download digital receipts
What if I don't have Swish?
You can always top up as usual at any of our locations, such as STORE and all restaurants and cafés.
Vanliga frågor och svar
English below. Updated 2021-10-07
Från höstterminen 2020 använder alla kårmedlemmar ett fysiskt kårkort som gäller studietiden ut. Du får även en digital utgåva, som har egna funktioner, utan överlapp. Här förklarar vi varför och hur det  fungerar.
Hur gör jag vid tentor?
Vid tentamen kommer kårmedlemskap kollas automatiskt i förväg. Om du inte har betalt din kåravgift kommer du att få fylla i en blankett. Om tentavakterna ber dig om att fylla i en blankett trots att du har betalt din kåravgift kan du också visa ditt kårkort i Mecenatappen vid ingången för att visa att du är kårmedlem. Du kan inte använda ditt fysiska kårkort för att bevisa betalt kårmedlemsskap.
Varför ersätts terminskort med ett enda?
Fram tills hösten 2020 trycktes 24 000 kårkort till chalmersstudenter årligen. Genom att bara beställa till Chalmers nya studenter kommer vi ner på ca 3000 kort per år. Idag kan vi styra så pass mycket digitalt och vidare blir det betydligt mindre administration kring korten, för både dig och oss. Du slipper vänta på ett kort som ibland kommer sent, ibland till fel adress och du slipper överlapp med gamla och nya kort.
Positiva effekter är minskade kostnader och administration så din medlemsavgift kan användas till bättre saker men också ett betydligt mindre klimatavtryck med färre kort, kuvert och transporter.
För dig som enskild student blir påverkan ganska liten, men som kår gör vi stor skillnad på många sätt.
Vad är skillnaden på ett fysiskt och digitalt kort?
Det fysiska används enbart som en nyckel och ett betalkort. På kortet står inte saker som sektionstillhörighet eller giltighetstid. Accesserna förnyas automatiskt efter erlagd terminsavgift.
Det digitala mecenatkortet finns fortfarande kvar för att exempelvis legitimera dig som student vid Chalmers och för att få externa rabatter (t.ex. SJ, Västtrafik). På kortet står din sektionstillhörighet och giltighetstid som vanligt. Kortet är bara tillgängligt via Mecenats app. Betalas inte kåravgiften i tid blir det digitala kortet vitt och saknar då koppling till Chalmers, men Mecenats rabatter kvarstår.
Mitt kort är borta/trasigt - vad gör jag nu?
Vid borttappat kort tillkommer en avgift på 50:-, för spärrning och beställning av nytt kort. Avgiften tillkommer även vid beställning av nytt kort orsakat av skada.
Vi räknar med ett slitage från vardaglig bruk och vid behov av nytt kort på grund  av detta tas ingen avgift ut.
Kontakta Kårservice för beställning av nytt kort.
Ett sätt att förlänga livslängden på kortet är att försöka förvara det separerat från andra kort, mobil och magnetiska föremål.
Om jag glömt min mobil/får slut på batteri/inte äger en smartphone – kan jag använda mitt fysiska kort för identifiering?
Nej du kan inte använda ditt fysiska kort som student-ID.
Du kan identifiera dig genom något av följande sätt:
Questions and answers
As of fall 2020, all students will receive a new, physical student union card that will last until you graduate. You will also need to use the digital version via Mecenat's app. The cards have different functions and do not overlap. You will need them both. Here's how it will work.
How will it work at exams?
Your student union membership will automatically be checked in advance of exams. If you haven't paid your membership fee you will have to fill in a form. If the exam guards ask you to fill in a form despite you having paid the membership fee you can also show your student union card in Mecenat's app to show that you're a student union member. You cannot use your physical card as identification at exams.
Why one card instead of the biannual semester cards?
Up until2020, we printed nearly 24 000 plastic cards annually to provide for all students. When only new students receive the card, we are down to a mere 3000 a year. Since we can add access to cards online, there's no need to print new ones each semester.
The main benefit for you is of course that you will never have to wait for your new card to arrive, transfer money between them or keep track of which one is the old and new one. After paid membership, the access on the physical ward will remain.
The other effects of this change will be reduced carbon emission from fewer transports, plastic production and of course less unnecessary administrative work for our staff.
What are the differences between the physical and digital card?
The physical can be used only for accessing rooms and buildings as well as method of payment within the student union units. There are no student division or expiry date on the card. Accesses are prolonged after membership payment.
The digital card is used only for identification as a student at Chalmers. This is the valid ID for exams (other forms may be relevnt), ID for entrance at certain student events and to get external discounts such as Västtrafik and SJ. Student division is stated on the card and card is only available through the Mecenat app.
The cards are not interchangeable so make sure to always have them with you.
I lost my card/it's not working
Should you lose your card or it stops working, we will order a new one and block the old. Contact Kårservice if you need a new card. If you've lost or damaged your card, a new one is 50 SEK. If your card stopped working due to normal wear, it will be replaced without fee. To prolong the lifespan if your card, we recommend keeping it separate from other cards and magnetic items.
If i forgot my phone/my battery goes flat/don't own a smart phone, can I use my physical card as ID? 
No, the physical card is only a key and a payment method. Like a combination of your keys and credit card. Only the digital version will be valid as student ID in general, but for exams other validation methods will be used as well that do not require a smartphone. The reason being the physical card lacking expiry date.
For travel discount eligibility via "Studentresesymbolen" you have to have access to your Mecenat app through your phone, information here: https://www.vasttrafik.se/en/tickets/more-about-tickets/student-discount/
Physical card – use as payment and access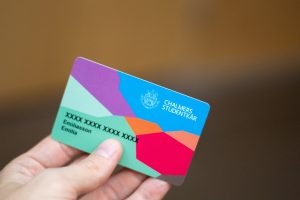 Digital card – proof of membership